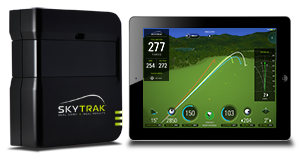 What is SkyTrak?
The SkyTrak Launch Monitor is a complete Practice, Play and Entertainment System designed for golfer's use at home or away from the course. At its core, SkyTrak is powered by a revolutionary breakthrough in launch monitor technology that provides commercial accuracy and reliability in measuring ball flight data, but at a consumer affordable price.
How is SkyTrak different?
Well let's start with the two main types of ball tracking systems used commercially — Doppler and Photometric.
Both types of commercial systems are very good, yet they use two very different methods to achieve their results. To put it very simply – A Doppler system, as you may envision radar working, tracks how your ball flies and where it lands, and then calculates why it went there. On the other hand, a Photometric system measures what the ball is doing immediately after impact with high speed cameras, and then calculates or project it's flight path and distance using very sophisticated algorithms.
SkyTrak uses the photometric approach for reasons we will discuss on more detail.
Which technology is better, Doppler or Photometric?
Both designs have their strengths, but for consumer use, we believe Photometric systems are more versatile allowing for use both indoor and outdoor, plus they require less space. As far as performance, both types provide quality results and overall accuracy. Using a Doppler system indoors, however, is often problematic because to obtain accurate information, a larger space must be used to allow enough ball flight before the ball impacts a net or screen. This is an important distinction and critical to the question of accuracy and reliability of the data you see on your screen. But, in summary, if space and budget are not considerations, either of these commercial alternatives produce highly accurate and reliable results. This accuracy and reliability comes at a very expensive price, however.